This page describes the Emacs Muse, which is a publishing environment for Emacs.
Emacs Muse is part of the GNU Project.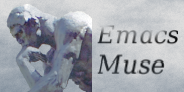 See Emacs Wiki: Emacs Muse for a wiki page that the entire community can edit. Please feel free to add your tips and tricks, as well as mention your website if you use Emacs Muse.
---
This webpage is available in the following languages.
Introduction to Muse
Emacs Muse is an authoring and publishing environment for Emacs. It simplifies the process of writings documents and publishing them to various output formats. Muse uses a very simple Wiki-like format as input.
Muse consists of two main parts: an enhanced text-mode for authoring documents and navigating within Muse projects, and a set of publishing styles for generating different kinds of output.
What can I do with Muse?
Muse can publish to the following formats.

Blosxom
ConTeXt
DocBook
Groff
HTML
Info
LaTeX
PDF
RDF (RSS 1.0)
RSS 2.0
Texinfo
XHTML
XML

Muse can make all kinds of documents.

Technical documentation
Web pages (such as this site)
Slides
Lecture notes
Poems
Compilations
Blog entries
Journals
Documents that include citations to other sources
Wiki-like knowledge bases
Plan pages (in conjunction with Planner Mode)
Class notes

What else?

Muse is extensible and has a modular codebase.
You can organize your work into projects.
With the optional muse-wiki module, it is easy to make hyperlinks between projects.
Muse works with your favorite minor modes, like outline mode, fill, and flyspell.
Muse can import LaTeX documents with the included muse-import-latex.el module.
Obtaining the software
Muse is developed using git. For instructions on how to obtain the latest development version of Muse, consult the relevant chapter of the Muse Manual.
The latest development version may also be downloaded as a .tar.gz file or a .zip file.
Stable releases are available at the muse-el GNA project download area.
Debian and Ubuntu packages for Muse are available. The package is named muse-el. See the Debian Packages page for instructions on using my custom Debian and Ubuntu package repositories.
Documentation
QuickStart
A QuickStart quide has been written for Muse using Muse markup. It teaches Muse by example, and is available under the terms of the GNU GPL. It is available in the following languages.
Manual
The Muse manual is available on-line under the terms of the GNU Free Documentation License in several forms.
The Muse manual has also been translated into Chinese, thanks to Haiyong Zheng.
Miscellaneous
An emacs-wiki migration guide (etc/emacs-wiki-migration.txt), is bundled with Muse.
A tutorial written in French may be found here. Some additional files for publishing metapost and pgf graphics in Muse documents may be found at the same place.
Becoming involved
To report a bug or suggest a change, check out the Muse bugtracker. All bugs that are sent to this tracker will also appear on our muse-el-commits mailing list.
To report issues, ask for help, dialogue about various publishing topics (among other things), keep track of announcements, or follow Muse development, the following mailing lists are available. As a spam-prevention measure, you must first subscribe to a mailing list before sending email to it.
muse-el-announce@gna.org

This is a low-traffic list for Muse announcements.
Gmane: gmane.emacs.muse.announce

muse-el-discuss@gna.org

Discussion, bugfixes, suggestions, tips, and the like for Muse. This mailing list also includes the content of the Announcements list.
Gmane: gmane.emacs.muse.general

muse-el-logs@gna.org

Log messages for commits made to Muse.
Gmane: gmane.emacs.muse.scm

muse-el-commits@gna.org

Generated bug reports for Emacs Muse.
Gmane: gmane.emacs.muse.cvs

muse-el-internationalization@gna.org

Discussion of translation of the Muse website and documentation into many languages.
Gmane: gmane.emacs.muse.internationalization
The Gmane website allows you to access the mailing lists in a variety of useful forms, such as: RSS feed, a blog-style interface, and a news feed for a newsreader.
My email address is mwolson AT gnu DOT org, in case you need to contact me privately about something.
The #muse channel on irc.freenode.net is a good place to chat with myself and other Muse developers and users. My nick on irc.freenode.net is mwolson.
See the Emacs Wiki: Muse Development wiki page for instructions on accessing and committing changes to a shared git repo for Muse.
Related software
The Muse codebase is a departure from Emacs Wiki Mode version 2.44. The code has been restructured and rewritten, especially its publishing functions. The focus in this revision is on the authoring and publishing aspects, and the "wikiness" has been removed as a default behavior (available in the optional muse-wiki module). CamelCase words are no longer special by default. Use the muse-wiki module if you want CamelCase words and interwiki links.
Software based on Muse
Planner is an organizer and day-planner for Emacs.
As of version 3.40, Planner is based on Muse.
A simple interface to weblog servers which present the REST Atom API.
A parser of Muse syntax that is written in Java. No Muse (Emacs Lisp) source code is actually used by the parser as far as I can tell, but the documentation recommends using Muse Mode and Emacs to edit project files.
Feel free to let me know of any other software that is based on Muse. Muse aims to be a good backend for Emacs Lisp hackery.
Software similar to Muse
The predecessor of Muse.
AsciiDoc is a text document format for writing short documents, articles, books and UNIX man pages. It is written in Python, but has a user-contributed Emacs mode.
An Emacs mode which converts plain text to HTML / SGML (Linuxdoc) / Texinfo / LaTeX / Wiki. It is being gradually assimilated into Org-mode.
Markdown is two things: (1) a plain text formatting syntax; and (2) a software tool, written in Perl, that converts the plain text formatting to HTML.
A mode for keeping notes, maintaining ToDo lists, and doing project planning with a fast and effective plain-text system.
Now that Org-Mode includes the org-publish.el file, it can output Org files in various ways.
A plain text markup syntax and parser system. It is useful for in-line program documentation (such as Python docstrings), for quickly creating simple web pages, and for standalone documents.
a Unix command line oriented framework for document structuring, publishing and search. It is implemented in Ruby.
Logos
Need a spiffy Emacs Muse logo for your website? Here are several. They are in the public domain. If you want to make your own using the Gimp editor, I can provide the source .xcf file on request.
If you use one of these logos on your website, please make a local copy of it and use the link destination "http://mwolson.org/projects/EmacsMuse.html".

Made with Emacs Muse


Powered by Emacs Muse

Contributed logos
Here are some various logos that have been made by other people.

(courtesy of Kamen Nedev, made using Button Maker)


(courtesy of Arnaud Bailly)

History
John Wiegley started Muse upon realizing that Emacs Wiki Mode had some serious limitations. Around February 2004, he started making "emacs-wiki version 3.00 ALPHA", which eventually became known as Emacs Muse.
Around 2004-12-01, I became the maintainer of Muse, as per John Wiegley's request.
Muse 3.01 was released on Wed, 2005-06-22, which was the first non-alpha release of Muse.
Muse 3.02 was released on 2005-09-16. This was the first version to have CamelCase and interwiki support.
Muse 3.03 was released on 2007-06-17. This version featured support for nested lists, table.el-style tables, orgtbl-mode style tables, and whole-document escaping of special characters.
Muse 3.10 was released on 2007-08-16. This was the first version to use git for version control, rather than GNU Arch. muse-list-edit-minor-mode was added. Support for the ConTeXt publishing format was provided.
Muse 3.11 was released on 2007-08-24. It featured support for serving published Muse files with Blosxom. addressed a number of compatibility issues with Emacs21 and XEmacs, and featured plenty of bugfixes.
Muse 3.12 was released on 2008-01-28. It primarily focused on bugfixes.
Future plans
Muse now has a file called etc/IDEAS.muse that mentions the new things that might get implemented in future releases.
Muse is going to move into a faster release schedule, with more major releases, and less radical changes between releases, for the most part.
---